The Ultimate Guide to Family Holidays in Cornwall
Cornwall is the perfect place for a family holiday. With its stunning coastline, world-class attractions and abundance of things to do, there's something for everyone in the family to enjoy. This ultimate guide helps you plan the perfect family holidays Cornwall getaway, including where to stay, what to see and do, and how to make the most of your time together. Whether you're looking for a relaxing beach break or an action-packed adventure, read on for everything you need to know about planning a memorable family holiday in Cornwall.
EXPLORE THE GUIDE
6 reasons why Cornwall is the perfect place to take your family
Cornwall is a stunning region of the UK, offering everything from idyllic beaches to quaint fishing villages.
There's plenty to keep kids entertained, from playgrounds and museums to animal parks and amusement parks.
The food is fantastic, and there's something to suit everyone's taste.
The coastline is absolutely beautiful, and there are plenty of opportunities for interesting walks and hikes.
Cornwall is steeped in history, so there are lots of opportunities for learning along the way.
The locals are friendly and welcoming.
When to visit Cornwall
Cornwall is a beautiful place to take the family any time of year. However, depending on your children's ages and what you're looking to do while you're here, certain times of year may be better than others. Here's a quick guide to help you plan your trip.
School holidays
One of the most important factors to consider when planning a trip to Cornwall is whether or not it will fit in with school holidays. If you're able to travel during term time, you'll find that many of the attractions and hotels are less crowded and offer cheaper rates. However, if you're only able to travel during school holidays, don't worry—there's still plenty to do in Cornwall with kids. Just be prepared for larger crowds at popular attractions.
The weather
Cornwall has a temperate climate, which means that it's relatively mild all year round. However, the weather can be unpredictable, and it's not uncommon for there to be rain showers even in the summer. If you're looking for beautiful sunshine, late spring and early autumn are usually your best bet.
A unique microclimate
Weather in the southern part of Cornwall is unique because of its proximity to the sea. This means that it can often be milder than other parts of the UK (sometimes warmer than other parts of Cornwall!), while still having plenty of sunshine and blue skies during summer.
Your budget
While Cornwall is an affordable destination no matter when you visit, prices do tend to be higher during peak season. If you're looking to save money, consider booking your trip for the spring and autumn season instead. You'll still be able to enjoy all that Cornwall has to offer without breaking the bank.
Activities for the whole family
Look for year-round activities, like swimming in an indoor heated pool on site, to keep the family happy and entertained throughout your holiday, no matter the weather.
The crowds
Summer in Cornwall is peak season for tourists. The weather is warm and sunny, making it ideal for days spent exploring the beaches. However, there can also be large crowds, so if you're looking to avoid the hustle and bustle, spring and autumn are also lovely times to visit. Just keep in mind that some businesses close down for the winter, so if you're planning a trip during this time, be sure to do your research in advance.
Family Holidays in Cornwall through the seasons
Cornwall is beautiful throughout the year, for different reasons. Here's a quick breakdown of what you can expect no matter when you visit.
The summer season
The summer season is when Cornwall really comes alive. The days are long and sunny, and there's a great atmosphere around the place. The beaches are perfect for swimming, surfing, and building sandcastles, and there are lots of lovely walks to enjoy too. There are also plenty of events and festivals taking place throughout the summer months. However, it should be noted that accommodation prices do tend to be higher during this time of year.
The spring and autumn seasons
Cornwall is still lovely in the spring and autumn months – the weather is usually milder than it is further north in England, so you can still enjoy all the activities on offer. And because school is still in session, accommodation prices will be lower than they are during the summer months. Just be sure to pack a jacket or sweater for those cooler evenings!
Halloween
Halloween is a great time to visit Cornwall if you're looking for something a bit different. Bodmin Moor is said to be haunted by a number of ghosts, including that of Jan Tregeagle – an evil man who was cursed to perform numerous tasks for eternity after trying to cheat his way out of doing them! You can also visit Tintagel Castle, which has links to the legend of King Arthur, or take part in one of the many Halloween-themed events that take place around Cornwall at this time of year.
Christmas
If you're thinking about visiting Cornwall over Christmas, you'll be spoilt for choice. From theatrical performances at Bodmin Jail (a former prison which is now open to the public) to festive afternoon teas, there's plenty going on. And if you want to get away from it all and enjoy some peace and quiet, Christmas is the perfect time to do so – many businesses close down over the festive period, so you'll have the place almost to yourself!
Where to stay in Cornwall
With its sandy beaches, rolling hills, and quaint villages, it's no wonder that Cornwall is such a popular tourist spot. If you're planning a trip to Cornwall with your children, you may be wondering where the best place to stay in.
For families who want a little more comfort and privacy than camping can provide, holiday homes and apartments are a great choice. There are holiday homes found throughout Cornwall, ranging from basic to luxurious. Many of these homes are found near popular tourist destinations, making it easy to get out and explore all that Cornwall has to offer.
What to look for in your holiday home or apartment
When booking a holiday home in Cornwall, there are a few things to keep in mind.
Location, location, location
When it comes to choosing a holiday home, location is everything. You want to be close enough to all the attractions and activities that you want to do but still far enough away from the hustle and bustle of everyday life. That's why Cornwall is such a great choice—it offers the perfect balance of peace and quiet while still being close to all the action. And with so many homes available for rent, you're sure to find one in the perfect location for you and your family.
Swimming and spa facilities
If you're looking for a holiday home with extra features, many of them are on a resort with swimming or spa facilities. Look for a holiday resort with an indoor heated swimming pool, jacuzzi spa and sauna so you can enjoy a bit of pampering while still enjoying your family holiday.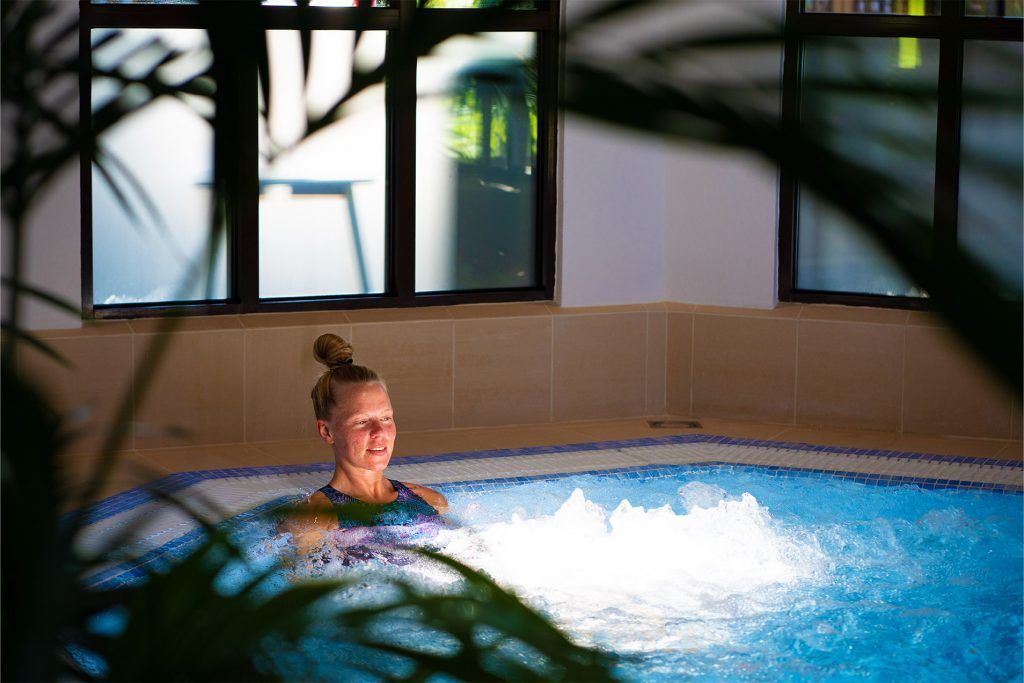 Family home or apartment layout
If you're planning on spending most of your time outdoors, you'll want a home with a garden or patio where you can enjoy the sunshine. If you're hoping to spend lazy days reading and taking naps, look for a home with comfortable furniture and plenty of natural light. And if you have young children who need entertaining, make sure there's plenty of space for them to run around both inside and outside the home.
Consider your budget
Before starting your search for the perfect holiday home, it's important to have an idea of how much you're willing to spend. Holiday homes come in all shapes and sizes, so there's bound to be one that fits both your needs and your budget. Just remember to factor in other costs like security deposits, utility bills, and extras like Wi-Fi and Netflix.
Online reviews from other families
Finally, be sure to read online reviews of the home before making your booking. This will give you an idea of what other travellers have thought of the property.
Another great choice for families is to stay in a family holiday complex or resort. Many of these offer excellent facilities, including indoor heated swimming pools, play areas, and even entertainment for the whole family.
Benefits of staying in a Cornwall family holiday resort
There are many benefits to staying in a Cornwall family holiday complex. Not only will you have easy access to all the amenities, but you'll also be surrounded by like-minded people who share your love of Cornwall. You'll always feel safe and secure while staying in a family holiday resort, and there are often discounts available for larger groups.
North Cornwall or the South Coast of Cornwall?
When it comes to deciding which part of Cornwall you should stay in, the answer really depends on your individual preferences and needs. North Cornwall tends to be more rural, with exposed sandy beaches a rugged coastline. South Cornwall has better facilities with a wide range of attractions and things to do for families.
The beaches make all the difference
No matter which part of Cornwall you decide to stay in, one thing's for sure—you won't be disappointed by the stunning beaches. From sandy coves to rocky outcrops and picturesque lagoons, there's something for everyone. The south coast is known for its picture-perfect stretches of white sand and crystal-clear waters, while the north coast is great for exploring hidden coves and taking in breathtaking views.
The south coast has gentle, flatter waves because it's sheltered, making it a great place for stand-up paddleboarding and other water activities. North Cornwall is wilder and more rugged, with larger waves that attract experienced surfers from all over the world.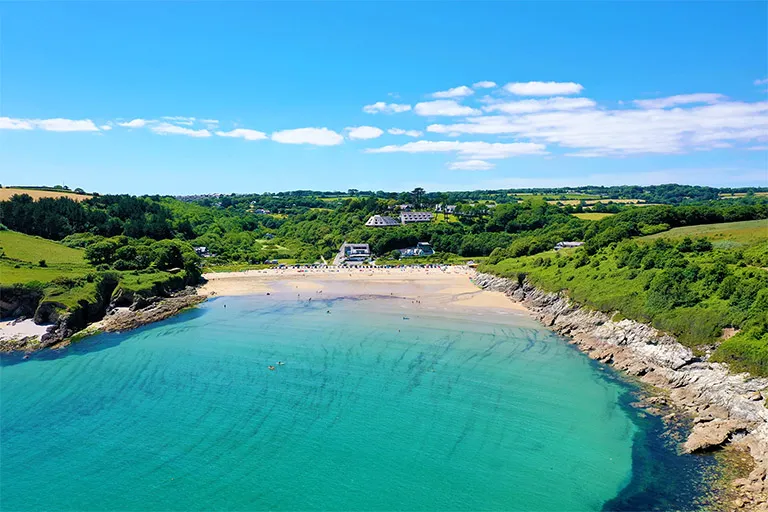 What to do in Cornwall
With its stunning coastline, charming villages, and friendly people, Cornwall has something for everyone.
Visit a castle
Kids will be amazed when they explore the historic castles of Cornwall such as Tintagel, Launceston, and the ancient monuments of Bodmin Moor. Not only will they have a great time, but they'll also acquire valuable knowledge about British history.
Go to the beach
Cornwall is famous for its beaches, and there are plenty of great spots for families to enjoy the sun and the surf. From Lifeguard-patrolled beaches like Fistral Beach, family friendly spots like Maenporth to secluded coves like Kynance Cove, you'll find the perfect spot for your family.
Take a boat trip
There are many boat trips available in Cornwall, from short harbour cruises to longer excursions along the coast. This is a great way to see Cornwall from a different perspective and spot some of its famous wildlife too. dolphins, seals, and basking sharks are all commonly seen off the Cornish coast.
Visit an animal park
If your family loves animals, then you'll want to add one of Cornwall's animal parks to your itinerary. Newquay Zoo is home to over 1,000 animals from all over the world, including lions, tigers, and gorillas. There are also several smaller animal parks scattered throughout Cornwall that are perfect for younger children. These parks usually have petting zoos where kids can interact with friendly farm animals.
Explore a mining town
Cornwall's mining history dates back thousands of years, and you can learn all about it at one of the many mining museums found throughout the county. Alternatively, take a walk through one of Cornwall's abandoned mines—just make sure you go with a guide who knows the area well! Either way, exploring a mining town is a great way to get a taste of Cornwall's rich history.
Fill your belly
No family trip to Cornwall would be complete without indulging in some of its delicious food. Cornish pasties are a must-try—they're a traditional baked pastry case filled with beef, swede and onion. If you have a sweet tooth, don't miss out on Cornwall's world-famous ice cream. No matter what your family enjoys eating, you'll find something to satisfy everyone's appetite in Cornwall.
Places to visit in Cornwall
Cornwall is home to many fantastic attractions and activities that are perfect for families, from beaches and boat trips to zoos and castles. Here are some of the top places you should visit with your family in Cornwall.
Flambards in Helston
Flambards is on the southern coast of Cornwall and is a great day out for the entire family. With over 25 rides and attractions, there's something for everyone. Younger children will love spending time in Ferdi's Funland, while older kids (and big kids at heart) can enjoy the rollercoasters.
Visit the Blue Reef Aquarium in Newquay
This marine conservation charity is home to over 2,000 species of fish, reptiles, mammals and birds. There are daily talks and feeds, plus the chance to meet some of the friendly seals who live here.
No trip to Cornwall would be complete without spending some time on a sandy beach. Cornwall has over 300 miles of coastline, so you're sure to find a spot that's just right for your family. With the most beautiful beaches in England and Wales, you'll have a beach holiday to remember. There are many stunning beaches along the Cornish Coastline and if you're looking for a beach with plenty of activities for kids, try these:
Swanpool Beach
Swanpool Beach is a sheltered cove with calm water, making it perfect for young children who are just learning to swim. It's also great for paddleboarding and kayaking. And when you've had enough of swimming and paddling, there's a nature trail that takes you through the dunes to Maenporth Beach.
Maenporth Beach
Maenporth is another sheltered, sandy beach with calm water, making it ideal for families with young children. When you're ready for some lunch, head to the café on the beach for some locally sourced food. And if you want to explore beyond the beach, there are several walking and cycling trails that wind through the surrounding countryside.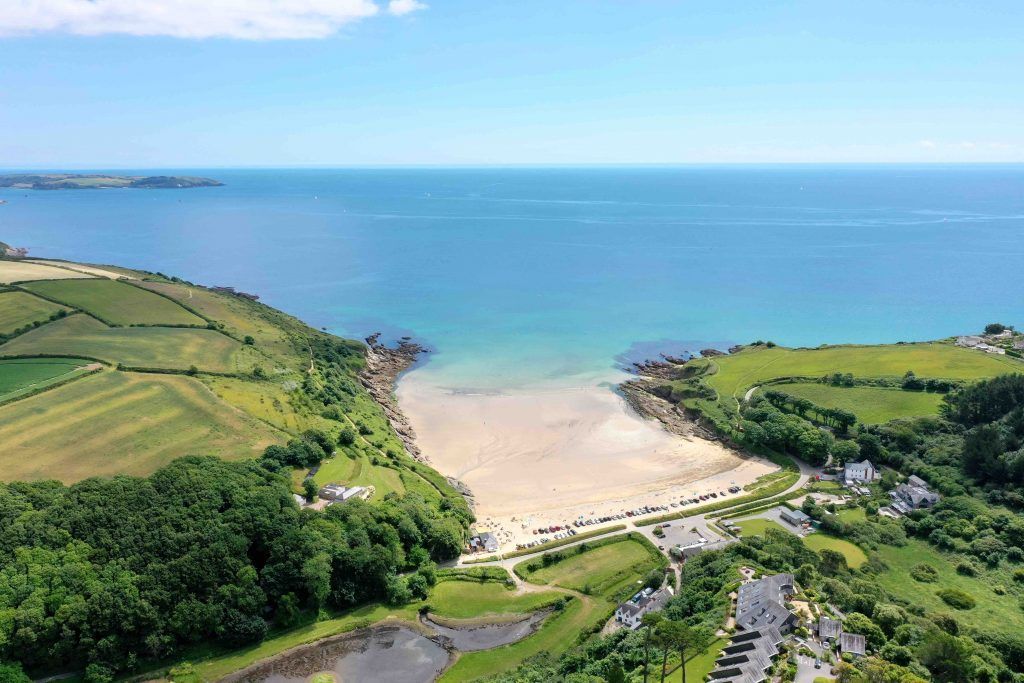 Gyllyngvase Beach
Gyllyngvase is one of Falmouth's most popular beaches. It is well-known for its golden fine pebble sand and clear blue waters. There is also a café on the beach where you can get refreshments. Gyllyngvase is the perfect place to relax and soak up the sun and enjoy the atmosphere.
The Lizard
The Lizard is home to a number of beautiful beaches, including Kynance Cove, Gunwalloe Cove, and Porthoustock. Kynance Cove is particularly popular with families, as it has a cafe and plenty of parking. The Lizard Peninsula is also home to the UK's most southerly point, Lizard Point.
Cornwall is rich in history and there are plenty of opportunities for families to learn about the past while on holiday.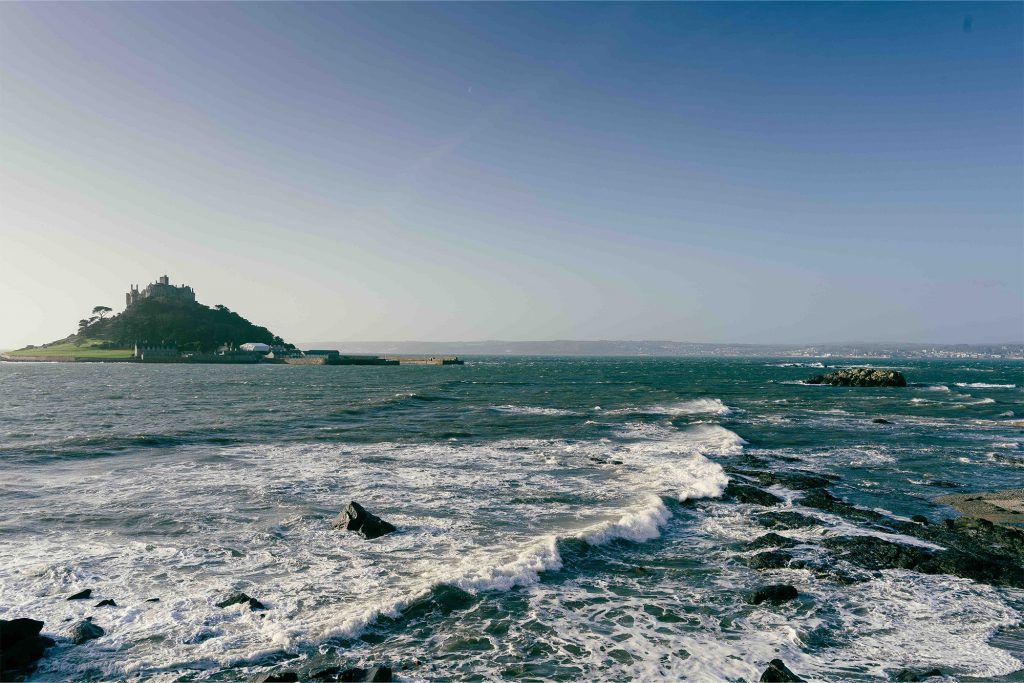 Pendennis Castle is a 16th-century fortress that was built to defend against invasions from France and Spain. These days, it's open to the public and makes for a great day out. Visitors can explore the castle grounds, learn about its long and fascinating history, and even take part in one of the many events and activities that are held there throughout the year.
The National Maritime Museum Cornwall is located in Falmouth and is dedicated to telling the story of Cornwall's rich maritime history. The museum houses a collection of historic boats, paintings, models, and artifacts, all of which bring this history to life. There are also interactive exhibits for kids, making this a great choice for a family day out.
Outdoor activities for your family holiday in Cornwall
If your family enjoys being active on holiday, Cornwall has no shortage of options. From hiking and biking to surfing and sailing, there's something for everyone.
Walking paths and gardens in Cornwall
Cornwall is home to miles of walking trails, giving you plenty of options for exploring the countryside. With beautiful gardens, valleys and estuaries, there's no shortage of breathtaking views and nature spots to enjoy.
The Southwest Coastal Path
The South West Coast Path is a journey like no other! This 630-mile path from Somerset to Dorset takes in England's gorgeous southwest peninsula. Walking the trail, you'll have the chance to enjoy stunning natural scenery, sea views and historic county towns. An adventure for parents and their children alike, walking the path is a rewarding and unforgettable experience.
A particularly enjoyable stretch of this path connects Falmouth to Maenporth Beach. Walking the gentle rolling hills with unforgettable coastal views, you travel from Falmouth across the clifftops, all the way to Maenporth Beach. Along the way, you'll have views of the coastline, dotted with sailboats and the opportunity to spot local wildflowers and soaring sea birds.
The Cliff Path, Falmouth
For those looking for a bit more of a challenge, the Cliff Path is definitely worth checking out. This 3-mile path will take you up and down some steep hills, but it's well worth it for the stunning views of Falmouth Bay.
The Maritime Trail, Falmouth
This walking path takes you along the waterfront of Falmouth Harbour, past docks and boats, and provides stunning views of the water. It is also a great opportunity to learn about maritime history, as there are several informational placards along the way. The trail is approximately 1 mile long and takes about 45 minutes to complete.
Gardens in Cornwall
Trebah Garden is found just outside of Falmouth town centre. This sub-tropical garden is set within 26 acres of land and features over 4,000 different species of plants. Trebah Garden is also home to several sculptures, fountains, and streams. The garden is open year-round and makes for a great day out for all the family.
Glendurgan Garden is another fantastic option for families. Located in Durgan village, this garden features three rivers, several acres of woodland, and a host of beautiful flowers and plants. The children will have fun following the maze, and there's also a playground if they need to let off some steam.
Trelissick Garden is situated in Feock, just upstream from Falmouth. With over 30 acres of explorable gardens, there's plenty to keep the little ones entertained. From open meadows to secluded woodlands, Trelissick has it all. And if you get hungry, there's a café on site serving up delicious food with stunning views across the gardens.
Cycling trails in Cornwall
If you're looking for a fun and active way to explore the stunning coastline of Cornwall, look no further than cycling! Here are our recommendations for family-friendly cycling trails near in Cornwall that are sure to please everyone in your clan.
Falmouth Town Cycling Trail
This 3-mile trail is perfect for families with young children or those who want to take things at a leisurely pace. The route takes you through Falmouth's historic town centre and past some of its most beautiful beaches.
The Camel Cycling Trail
This 18-mile trail runs along an old railway line from Padstow to Bodmin Moor. It's mostly flat, making it ideal for families with small children or beginners. Along the way, you'll pass through some charming villages and experience some truly lovely coastal views.
Watersports in Cornwall
There are also plenty of opportunities for water sports in Cornwall, such as sailing, canoeing, kayaking, and Stand Up Paddleboarding (SUP). For something really unique, try coasteering—an activity that involves cliff jumping and exploring tidal pools. Whatever your interests may be, there's sure to be an outdoor activity that's perfect for your family in Cornwall.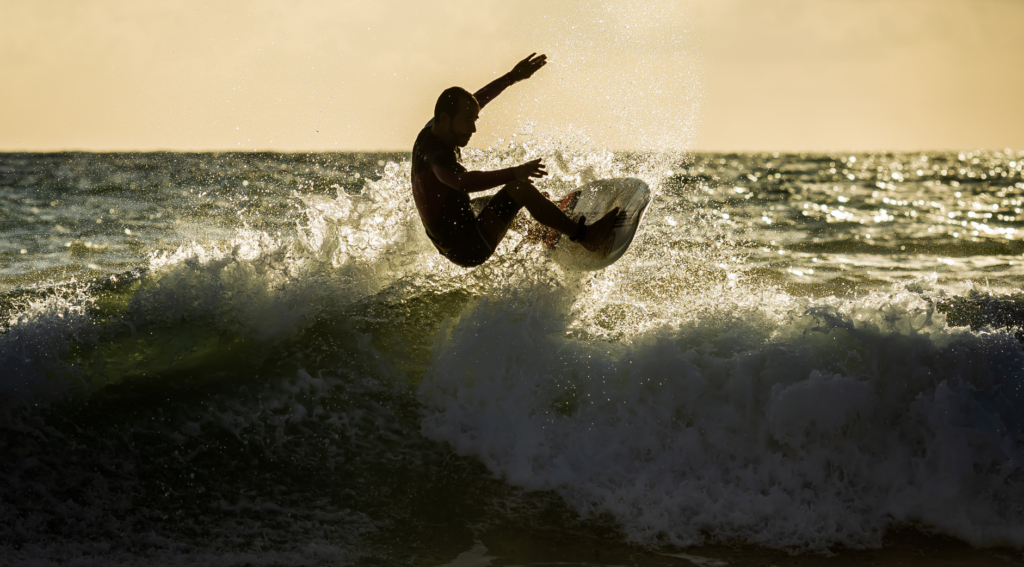 Stand-up paddleboarding (SUP)
Stand-up paddleboarding is a great way to get the whole family out on the water together. SUP is perfect for beginner swimmers because it's very stable, and you can stay afloat even if you fall in. There are plenty of SUP rental shops along the Falmouth coast, and one conveniently placed on Maenporth Beach where you can rent boards and paddles by the hour or day. Once you're all kitted out, head to one of Cornwall's many sheltered beaches for some calm water paddling. If you're feeling adventurous, you can even try SUP surfing!
Cornwall is world-famous for its surf breaks, so what better place to learn how to surf than right here? If your kids are itching to catch some waves, sign them up for group or private surf lessons with one of Falmouth's many qualified instructors. They'll be up and riding the waves in no time! After they've mastered the basics, they can tackle some of Cornwall's more challenging breaks like Fistral or Polzeath Beach.
Kayaking
Kayaking is another great way to explore Cornwall's coastline with the whole family. There are several kayak rental shops on the Falmouth coast where you can rent kayaks by the hour or day, including one at Maenporth Beach. Once you're all kitted out, paddle your way around Pendennis Castle, home to one of Henry VIII's famous coastal fortresses. Keep your eyes peeled for marine life like seals, dolphins, and octopuses as you paddle through crystal-clear waters.
INSIDERS TIP
Perfect for kids: Body Boarding!

Kid-friendly body boarding in Cornwall is the perfect way to introduce children of all ages to this fun water sport. With some helpful tips and ideal conditions, you'll be sure to have a safe – but thrilling – adventure with your family.
Learn a new skill on your family holiday in Cornwall
A family holiday in Cornwall is the perfect opportunity to learn a new skill, here we explore some of the family friendly activities to learn.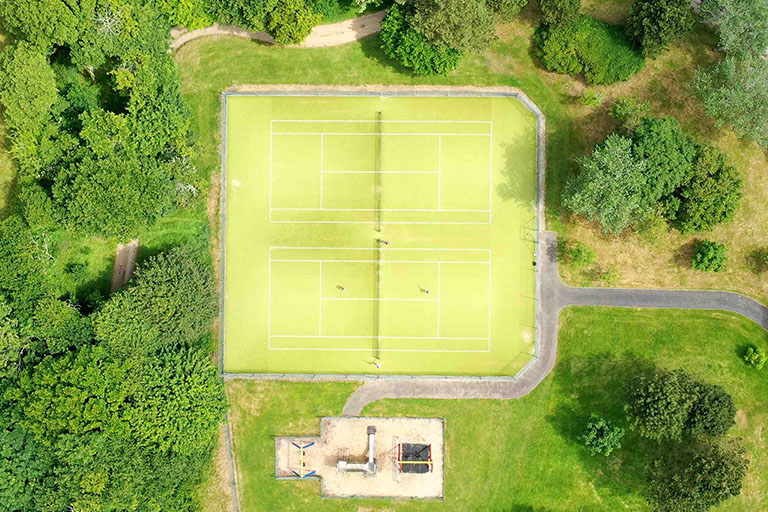 Learn to swim
As a parent, you want to make sure that your children are safe while on holiday. One of the best ways to do this is to make sure they know how to swim. Cornwall is a beautiful place to go on holiday, and there are many opportunities for your family to enjoy the water. Our complex has an indoor heated swimming pool that is perfect for teaching your children how to swim.
Learn to play tennis
Tennis is a great way to get active and have fun, and it's a sport that the whole family can enjoy together.
Why choose tennis?

Tennis is a great way to stay active on holiday, and our courts are available for use by guests at any time. It's a great way to bond with your family while getting some exercise. Our tennis courts are located in a scenic spot, so you can also take in the beautiful Cornwall scenery while you play. Whether you're a family of novice players or seasoned athletes, you'll be able to enjoy a game or two during your stay.
Teach your kids to play pool
Pool is a great game for families because it's easy to learn and there's no age limit. Our resort features a games room in our private clubhouse with a pool table is that it's the perfect place to learn new games and spend quality time together.
Learning to swing, jump and slide
Your kids will love the choice of swings, slides, and monkey bars at our private playground facilities, and you'll love knowing that they're safe and happy while you enjoy some time to yourself.
A safe and secure environment
The safety of your children is always our top priority. That's why our playground is fenced in and only accessible to guests of the resort.
Age-appropriate equipment
We know that kids need stimulation, so we've designed our playground with that in mind. We have a variety of age-appropriate equipment, including swings, slides, monkey bars, and more. And, we regularly inspect all of our equipment to ensure that it meets or exceeds all safety standards.
Interested to learn more?
Whether you're looking for a beach holiday, an adventure-filled getaway, or simply somewhere new to explore with your loved ones, Cornwall has something for everyone.